Our quality commitments, Swiss made with love
Our quality commitments, Swiss made with love
At Medela Baby, we know that both mother and baby give each other love, support and happiness. This is what inspires us to create premium quality pacifiers. We want to help nurture and deepen this unique loving bond.
So that nothing comes between you and your baby - but love.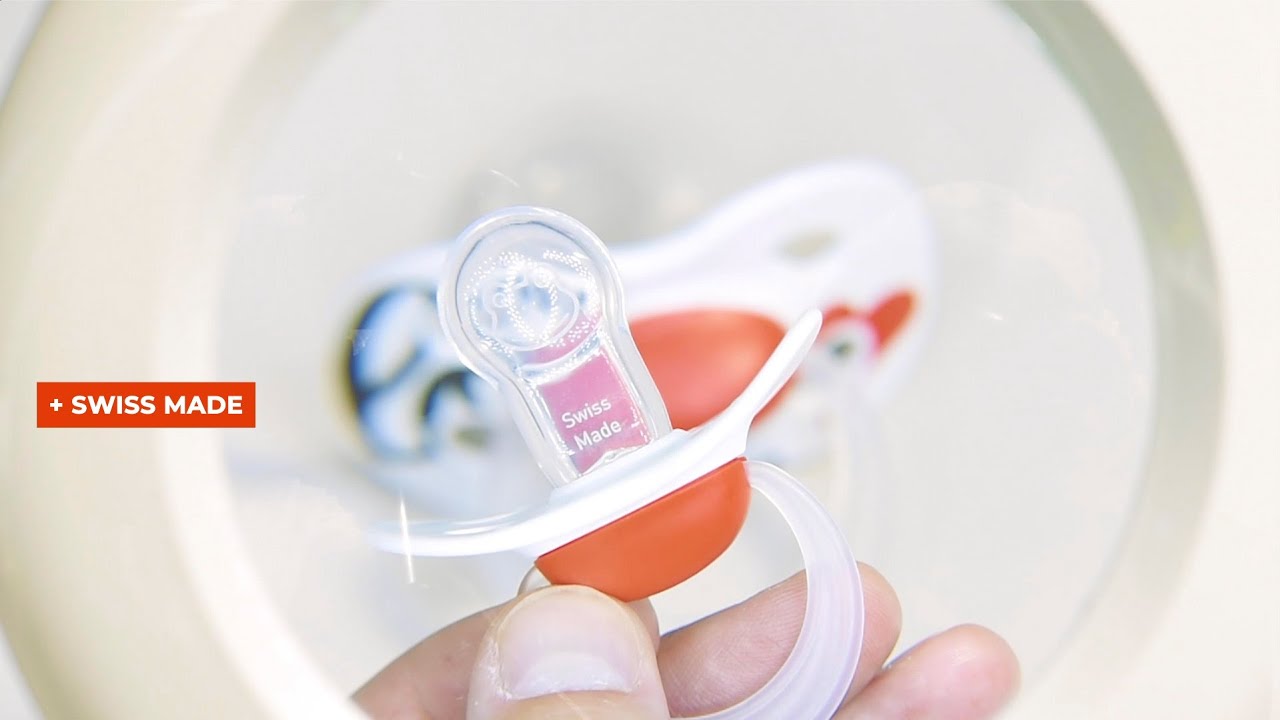 At a glance
Swiss quality, developed with experts and made with love in Switzerland by industry experts with over 85 years of experience
Orthodontic, designed to help support the natural movement of mouth muscles
With gentle-on-skin SensoPearls™ which enhance the airflow between your baby's skin and the shield
Made without BPA and BPS, we only use the safest materials for your baby
Lightweight and ergonomic design
Swiss quality
At Medela Baby our aim is to design premium products that help make every gesture feel more gentle, intimate and assured. We strive to provide safe baby products in the best quality. This is why all our pacifiers are made in our factory in Switzerland, with full traceability and 100% inline production control. We use high quality components to allow highest quality levels. Watch this video to learn more about our Swiss factory and quality commitments.
Orthodontic
All Medela Baby pacifiers are orthodontic. They are designed to help support the natural movement of mouth muscles thanks to our teat shape. The teat size evolves to fit your baby developmental periods.
Find out more here:

Are Medela Baby pacifiers orthodontic?
All Medela baby pacifier teats are orthodontic as they have been developed using criteria defined by speech-language pathologists. They have a symmetrical teat and a thin neck.
The thin neck teat allows lip contact and minimizes the space between a baby's upper and lower jaw.
A flat shaped teat that takes up less space and the flexible silicone allows for increased free movement of the tongue.

Does the teat size matter?
Yes. Our pacifiers are designed to fit the developmental growth stages of your baby. Your little one is growing the fastest in the first few years of life. The pacifier teat length and width of the different sizes fit the average growth measurements of the oral cavity during these developmental periods: newborn <2 months, 0-6 months, 6-18 months and 18+ months.
The pacifier should fulfill the purpose of calming your baby. When the teat size fits properly in the mouth, is not too big and not too small, this provides better support for the natural suckling movements.
Gentle on skin
What are SensoPearls™?
At Medela Baby we want our products to make every gesture more gentle, intimate and assured. Baby skin is sensitive and we strive to make all our products gentle to the skin. Sensopearls™ are smooth little nubs on the inside of the shield of all our pacifiers. They are placed on the top and bottom of the shield to reduce – in addition to the air holes – the risk of redness and irritation on your little one's delicate skin.
Made without BPA and BPS
Are Medela Baby pacifiers made without BPA?
Yes. Bisphenol A (BPA) is a chemical component of polycarbonate (PC) plastics and is used in packaging and containers that come in contact with food products. It can also be used in the linings of canned foods and beverages and metal jar lids. Under certain circumstances, it can leach from the material.
This can occur when the container is used for heating food in the microwave, keeping food warm over long periods or when there are cracks, scratches, or damage to the material surface.
There are concerns about the influence of BPA on the hormone balance of infants and small children, which is why all Medela Baby pacifiers are made without BPA.
Are Medela Baby products made without BPS and plasticizers?
Medela Baby products do not contain BPS or plasticizers.
Bisphenol S (BPS) is similar to BPA. It is used in the production of plastic containers and can also be found in food and beverage can linings and various paper products. It appears to have the same health risks as BPA, with concerns about its influence on the hormone balance of infants and small children, which is why all Medela Baby pacifiers are free of BPS and BPA.
Plasticizers, also known as phthalates are used in polyvinyl chloride (PVC) plastics to improve the flexibility and durability of the material. This chemical can also leach out of the product. Some plasticizers have caused concerns about the influence on hormones in children and adults. That is why we specifically use only phthalate-free PVC in our products.
Can the ink used for printed pacifiers become a danger?
No, Medela Baby only uses food-safe inks that are completely harmless for babies, even if they would happen to scrape them off with their teeth.
Lightweight and ergonomic design
Our pacifiers are designed for your baby's comfort. They are lightweight, do not interfere with breathing and facilitate smelling your comforting scent.

How does the ideal pacifer look?
Requirements for pacifiers have been recommended by speech-language pathologists. The following features should be incorporated into a pacifier's design to help support the natural movement of the mouth muscles. 1
Thin neck teat – minimizes the space between the upper and lower jaw
Flat teat – takes up less space in the mouth allowing for more tongue movement
Flexible and elastic teat – allows for additional tongue movement
Lightweight – minimizes the work of the facial muscles
Ergonomically shaped shield – fits the contour of the face and prevent pressure points
What does ergonomic shield mean?
The Medela Baby shields were developed with an ergonomist and designed to fit children's faces, preventing pressure points under the nose or on the chin and cheeks. Our angel-wing shape design does not interfere with babies' breathing and facilitates smelling the comforting scent of the mother. Its light weight minimizes additional stress on the orofacial muscles.
The air holes and Sensopearls™ allow for movement of air around the face which helps reduce possibile redness or skin irritations.
Read more