Why You Should Use Hands-free Breast Milk Collection Cups
Hands-free pumping is an important step forward in breastfeeding innovation, helping busy mamas pump while multitasking – and lightweight collection cups that tuck right into your nursing bra ensure an easily portable, truly hands-free experience.
Tell us if this scenario sounds familiar, mama: You're conflicted. You need to drop off your older kids at school or maybe you need to respond to several work e-mails, but you're also overdue for a pumping or breastfeeding session for your baby. Pausing your life for 20-minute pump breaks every couple hours isn't always easy, but you know what's best for your baby and you want to continue providing your liquid gold to him or her for as long as you choose.
With a hands-free pump and in-bra collection cups, you can now multitask with ease. Wearable breast milk collection cups, now available to purchase separately, can turn pumping sessions into an anytime, anywhere accomplishment that's discreet and more comfortable.
This mom said it best in her review: "Sometimes I forget I have it on."
How Do Hands-Free Collection Cups Fit into Pumping Breast Milk?
It can make pumping more liberating, to say the least. Our Collection Cups feature an anatomic shape designed to comfortably fit your breast and support effective milk expression. These ultra-lightweight cups tuck discreetly into your nursing bra and are among the lightest available, at just 77 g each.
The result: You get to move around easily and pump truly on the go – No matter what the day or evening has in store. Whether you're looking for a convenient way to build up your milk stash before returning to work or you're exclusively pumping, these game-changing collection cups are based on clinical research and designed for superior comfort and accessibility – without weighing you down.
Medela's Breast Milk Collection Cups are Now Available Separately
Driven by consumer demand (you asked, we answered!), our breast milk collection cups are now available to purchase separately. These innovative cups are compatible with several Medela breast pumps – namely our Freestyle Hands-free, Pump in Style® with MaxFlow, Freestyle Flex and Swing Maxi™ breast pumps. (If purchasing the wearable, pocket-sized Freestyle Hands-Free pump, Collection Cups are already included – though you may want a spare set on hand for whenever needed.)
No need to worry about "hacking" the cups to fit various pumps - these cups offer the peace of mind of a seamless, universal fit with four different Medela breast pumps, so you can choose the option that works best for your unique breastfeeding journey.
What to Look for: Top Benefits of Hands-Free Breast Milk Collection Cups
When you're learning the ins and outs of hands-free pumping, here are the top features to consider in breast milk collection cups:
Comfort, please. Look for a cup that's anatomically designed to fit your breast shape and support effective milk expression, and is also comfortable and ultra-lightweight. Medela's Collection Cups, for example, are among the lightest available at only 77 g per cup – about the equivalent of a half cup of blueberries!
A truly hands-free experience. Our Collection Cups are completely hands-free and do not require adapters, additional wires or cords. Tucked into your bra, the cups are designed for discretion and allow you to pump while in public, at work or when traveling.
Easy to use – and clean. Our streamlined collection cup design has just 3 parts to assemble and clean. They're also dishwasher-safe to save you time on cleaning.
Transparent design. It's so satisfying to actually see how much milk you're expressing, right? A transparent design means you can check progress and easily make any adjustments to ensure your nipple is in the tunnel correctly, avoiding any rubbing or discomfort.
Spill-proof pouring. You need collection cups that hold up to the pour test, so you can directly transfer your liquid gold into a storage container without spilling a drop.
Compatibility. Check for compatibility and that any breast milk collection cups you choose work safely with your breast pump.
How Hands-Free Breast Milk Collection Cups Work
Medela's Collection Cups fit directly into your nursing bra. Vacuum is applied to your breast by a tubing connection to the pump.
The fit of the bra and vacuum generated from the pump creates a seal that ensures the cups stay securely in place while pumping and expressing milk. Your milk is collected in the cup and can then be poured directly from the cup into a storage container at the end of your pumping session.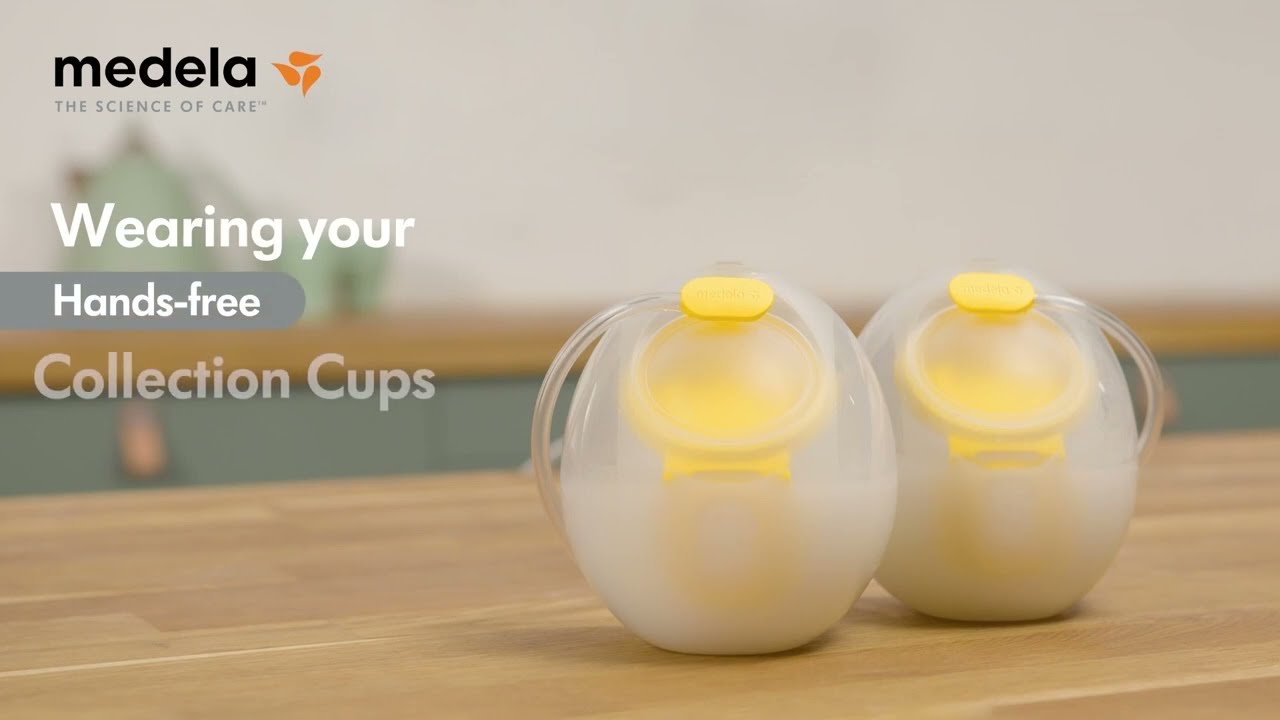 Wearing Your Hands-free Collection Cups

The Hands-Free Pumping Revolution – Changing the Game for Breastfeeding Parents
What is hands-free pumping? It's sometimes confused with wireless pumping, but a pump can be wireless and not necessarily hands-free. The latest innovations in hands-free pumping mean that the pump is portable (like in-your-pocket-portable, not just easy to carry around!) and the collection cups are wearable inside your bra.
Moms need all the helping hands and support they can get when breastfeeding or expressing milk, whether it's to help with taking the dog out, entertaining a toddler, or getting a quiet hour to herself to answer e-mails or take a shower. Hands-free pumping represents a new era of pumping freedom.
For working mothers, having a convenient hands-free option opens up a whole new world of possibilities when it comes to reaching breastfeeding goals and continuing to provide breast milk after returning to work. With hands-free options in the mix, these moms can find more ways and places to pump when away from their babies – while still managing their workplace duties.