Soutien-gorge d'allaitement et d'expression 3 en 1 Medela
Tirez et allaitez en tout confort avec le soutien-gorge d'allaitement et de pompage Medela. Avec sa conception polyvalente 3en1, il est léger, ultra-respirant et doté de la fonction Adaptive Stretch™ pour un ajustement parfait.
Ce soutien-gorge 3 en 1 est parfait pour être porté toute la journée et conçu pour :
l'allaitement en soutien-gorge
les tire-laits électriques
l'allaitement
Vue d'ensemble
3 en 1 Façon De Le Porter : Pour les mamans enceintes ou allaitantes qui recherchent la liberté et la flexibilité dans leurs vêtements de maternité. Le soutien-gorge 3 en 1 de Medela est conçu pour 1) l'expression dans le soutien-gorge, 2) l'expression avec tire-lait électrique et 3) allaiter avec confort et facilité.
Expression Mains Libres : Combinez-le à un tire-lait électrique Medela pour une expression mains libres en une seule étape ou utilisez-le avec un tire-lait intégré au soutien-gorge pour une expérience de maternité discrète et confortable.
Bonnets Entièrement Rabattables : Lorsque vous allaitez, profitez d'un contact peau à peau maximal pour favoriser l'attachement avec votre bébé.
Adaptative Stretch Doux Au Toucher : Fabriqué avec un matériau extensible pour s'adapter à votre corps en pleine évolution.
Parfait Pour Tous Les Jours : avec son haut muni de bretelles, le soutien-gorge est conçu pour être confortable et ajusté, offrant un soutien de moyen à élevé pour effectuer les tâches quotidiennes.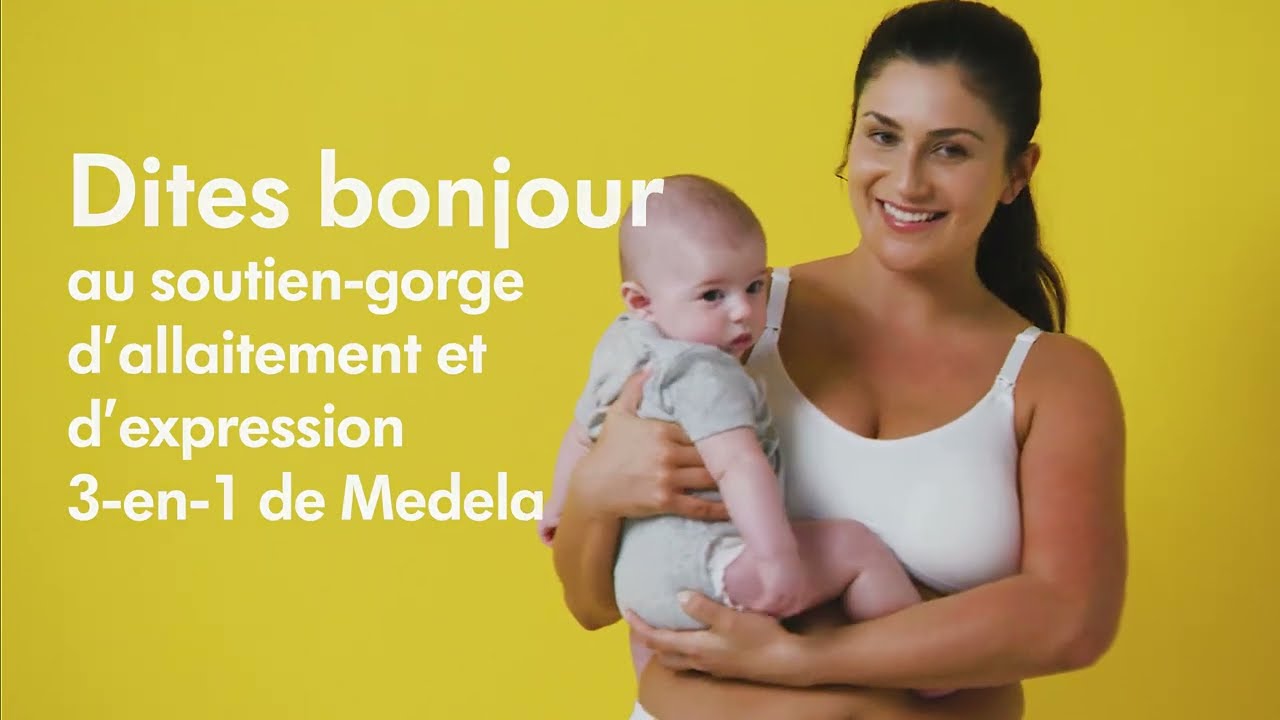 Description du Produit
Inclus
Tissu et instructions d'entretien
FAQs
Ce soutien-gorge d'allaitement mains libres en 1-étape rend l'expression super facile. Sa conception pratique s'adapte à la plupart des téterelles et des tire-laits pour soutien-gorge.
Il est également ultra-respirant grâce à ses coussinets en mousse perforés et son tissu extensible Adaptive Stretch™ doux au toucher pour un ajustement parfait et un confort ultime.
Le tissu est certifié selon la norme Oeko-Tex® Standard 100 et peut être lavé en machine jusqu'à 60°C /140°F.
Vous ne savez pas quelle taille il vous faut ? Regardez notre vidéo sur les tailles dans l'onglet Vidéos Utiles.
(1) Soutien-gorge d'allaitement et d'expression 3 en 1 Medela
Peut être lavé en machine jusqu'à 60°C / 140 °F, cycle délicat, uniquement avec de l'eau de Javel sans chlore si nécessaire, séchage à basse température, ne pas repasser, ne pas nettoyer à sec.
How to measure nursing bra size
The first step to find the right bra is getting accurate bust measurements, which can be done easily in the comfort of your home, best with a soft tape measure. Every woman is unique and this calculation is the first and most important step.

We have 5 easy steps for you to measure yourself:
• Measure around your bust, measure around your over bust
• Subtract your under bust measurement from your bust measurement
• Use our table to find your cup size
• Find your band width according to your over bust measurement.
• Use our size chart to find your correct size by combining cup size with bandwidth
When to measure nursing bra size?
During the second trimester you may notice that your breasts are growing and you may get uncomfortable in your regular bra. We recommend as soon as you are experiencing this you move to a wireless and seamless maternity & nursing bra. All our bras feature Adaptive Stretch™ material that grows with your changing body from pregnancy through nursing.
Can I breastfeed with a pumping bra? 
There are different products in our collection to help you in your breastfeeding and pumping journey. If you want to breastfeed and pump we recommend you to use our 3-In-1 Nursing and Pumping Bra, which is designed for 1) use with your wearable in-bra pump 2) use with your electric breast pump 3) nursing.
Are pumping and nursing bras the same?
Our collection includes nursing bras and pumping garments that have different features, but most bras are compatible with electric pumping. The 3-In-1 Nursing and Pumping Bra is the first bra that is specifically designed for hands-free pumping with wearable pumps, electric pumps and for breastfeeding.
Does this bra fit my electric breast pump?
Our 3-In-1 Nursing and Pumping Bra is designed to fit most in-bra pumps as well as the breast shields of most electric pumps.
What is the best bra for in-bra pumps?
Supportive bras are the most recommended to wear with in-bra pumps. Our 3-In-1 Nursing and Pumping Bra offers medium to high support which is ideal for in-bra pumping while providing full comfort for all-day wear. Our straps adjust from the front so it is easy to fit the in-bra pump and adjust to the right length for a comfortable and snug fit. As our bra is made of soft touch Adaptive Stretch™ material, it naturally adapts to your changing body and stretches for a comfortable fit.
How many nursing bras should I buy?
You should keep in mind that a nursing bra might need to get washed frequently so we recommend you have enough to wash and wear in exchange. We have a wide offering of bras to fit different needs. Check out our sleep bra with no hooks and eyes, plus a crossover nursing feature.(link sleep bra) If you need more support during the day, you might find that the Maternity & Nursing bra will offer you that gentle support. If you want to have extra support you can opt for our Comfy Bra or our Ultimate BodyFit Bra for even more support and shape. For more details please check out the full portfolio.
Can I wear a nursing bra to bed?
You can wear a nursing bra to bed as long as it is comfortable for you. During pregnancy and nursing the breast grows and you might want to have a little support even when sleeping. Our Sleep Bra is designed with minimal seams and no hooks, so nothing disturbs your skin while you sleep. It has a crossover function to allow for easy access for nursing during the night. Another benefit to wearing a bra for sleep is that you can also wear breast pads to avoid any leakage marks on your clothes.
Should breastfeeding mums wear a bra to bed?
As a breastfeeding mum you do not have to wear a bra to sleep, but of course there are several reasons you may want to do so:
1) your breasts are bigger than you are used to before pregnancy and you might feel you need some light support during the night
2) if your breasts leak you can easily place breast pads in your bra to avoid leakage on your clothes. We recommend using our Sleep Bra as this is the most comfortable piece in our collection for laying down.
When should you start wearing maternity bras?
We recommend you start wearing a maternity and nursing bra in the second trimester or when your regular bra gets uncomfortable. Our maternity & nursing bras are made of Adaptive Stretch™ material that grows with your changing body from pregnancy through nursing. Use our size chart to find the right size of your next nursing bra.