3-In-1 Nursing and Pumping Bra
Buy Now
3-In-1 Nursing and Pumping Bra
Pump and breastfeed in complete comfort with the Medela nursing and pumping bra. Featuring a 3-In-1 versatile design, it's lightweight, ultra-breathable, and is designed with Adaptive Stretch™ for a perfect fit.
This 3-In-1 bra is perfect for all day wear and designed for:
in-bra pumping
electric breast pumps
nursing
At a glance
3-In-1 Versatility: For pregnant or nursing moms looking for freedom and flexibility, 3-In-1 Bra is designed for In-Bra Pumping, Electric Pumping, and Nursing with comfort and ease.
Hands-Free Pumping: Pair with a Medela Electric Breast Pump for a 1-Step hands-free pumping journey or use with your in-bra pump for a discreet, comfortable pumping experience.
Full Drop Down Cups: When nursing, enjoy maximum skin-to-skin contact to encourage bonding with your baby.
Soft Touch Adaptive Stretch: Made with Adaptive Stretch material to grow with your changing body.
Perfect For All-Day Comfort: With its strap-style top, the bra is designed for a snug and tight feel, providing medium to high support so you can comfortably carry out daily tasks.
Compatibility: Medela's 3-In-1 is designed to work with Medela Electric Breast Pumps, wearable pumps, in-bra, and other electric pump brands.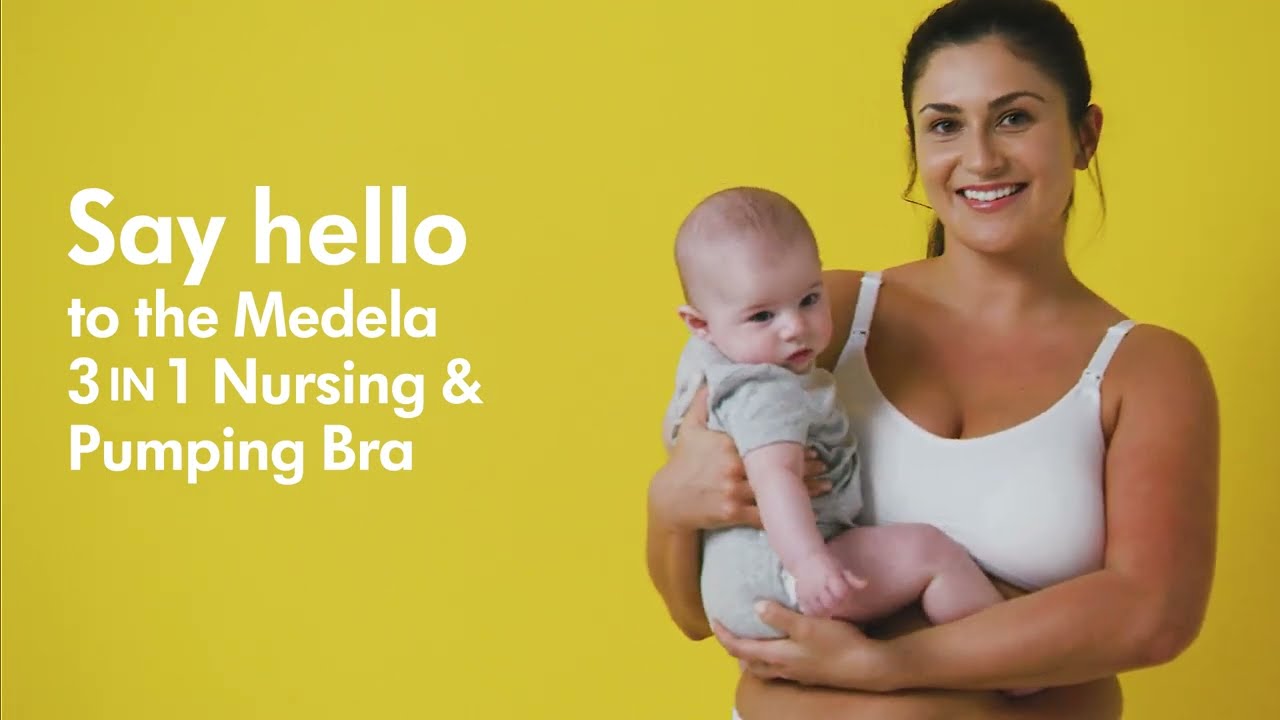 Product Description
What is included
Fabric and Care Instructions
FAQs
This 1-step, hands-free pumping bra makes pumping even easier. Its convenient design fits most breast shields and in-bra pumps.
It's also ultra-breathable with perforated foam pads and soft-touch Adaptive Stretch™ for a perfect fit and ultimate comfort.
The material is certified according to Oeko-Tex® Standard 100 and can be machine washed at up to 140°F.
Not sure what size you need? Watch our sizing video in the Helpful Videos tab.
(1) 3-In-1 Nursing and Pumping Bra
94% nylon, 6% spandex/elastane
Can be machine washed at up to 60°C / 140 °F, gentle cycle, only non-chlorine bleach if needed, tumble dry low, do not iron, do not dry clean.
How to measure nursing bra size
The first step to find the right bra is getting accurate bust measurements, which can be done easily in the comfort of your home, best with a soft tape measure. Every woman is unique and this calculation is the first and most important step.

We have 5 easy steps for you to measure yourself:
• Measure around your bust, measure around your over bust
• Subtract your under bust measurement from your bust measurement
• Use our table to find your cup size
• Find your band width according to your over bust measurement.
• Use our size chart to find your correct size by combining cup size with bandwidth
When to measure nursing bra size?
During the second trimester you may notice that your breasts are growing and you may get uncomfortable in your regular bra. We recommend as soon as you are experiencing this you move to a wireless and seamless maternity & nursing bra. All our bras feature Adaptive Stretch™ material that grows with your changing body from pregnancy through nursing.
Can I breastfeed with a pumping bra? 
There are different products in our collection to help you in your breastfeeding and pumping journey. If you want to breastfeed and pump we recommend you to use our 3-In-1 Nursing and Pumping Bra, which is designed for 1) use with your wearable in-bra pump 2) use with your electric breast pump 3) nursing.
Are pumping and nursing bras the same?
Our collection includes nursing bras and pumping garments that have different features, but most bras are compatible with electric pumping. The 3-In-1 Nursing and Pumping Bra is the first bra that is specifically designed for hands-free pumping with wearable pumps, electric pumps and for breastfeeding.
Does this bra fit my electric breast pump?
Our 3-In-1 Nursing and Pumping Bra is designed to fit most in-bra pumps as well as the breast shields of most electric pumps.
What is the best bra for in-bra pumps?
Supportive bras are the most recommended to wear with in-bra pumps. Our 3-In-1 Nursing and Pumping Bra offers medium to high support which is ideal for in-bra pumping while providing full comfort for all-day wear. Our straps adjust from the front so it is easy to fit the in-bra pump and adjust to the right length for a comfortable and snug fit. As our bra is made of soft touch Adaptive Stretch™ material, it naturally adapts to your changing body and stretches for a comfortable fit.
How many nursing bras should I buy?
You should keep in mind that a nursing bra might need to get washed frequently so we recommend you have enough to wash and wear in exchange. We have a wide offering of bras to fit different needs. Check out our sleep bra with no hooks and eyes, plus a crossover nursing feature.(link sleep bra) If you need more support during the day, you might find that the Maternity & Nursing bra will offer you that gentle support. If you want to have extra support you can opt for our Comfy Bra or our Ultimate BodyFit Bra for even more support and shape. For more details please check out the full portfolio.
Can I wear a nursing bra to bed?
You can wear a nursing bra to bed as long as it is comfortable for you. During pregnancy and nursing the breast grows and you might want to have a little support even when sleeping. Our Sleep Bra is designed with minimal seams and no hooks, so nothing disturbs your skin while you sleep. It has a crossover function to allow for easy access for nursing during the night. Another benefit to wearing a bra for sleep is that you can also wear breast pads to avoid any leakage marks on your clothes.
Should breastfeeding mums wear a bra to bed?
As a breastfeeding mum you do not have to wear a bra to sleep, but of course there are several reasons you may want to do so:
1) your breasts are bigger than you are used to before pregnancy and you might feel you need some light support during the night
2) if your breasts leak you can easily place breast pads in your bra to avoid leakage on your clothes. We recommend using our Sleep Bra as this is the most comfortable piece in our collection for laying down.
When should you start wearing maternity bras?
We recommend you start wearing a maternity and nursing bra in the second trimester or when your regular bra gets uncomfortable. Our maternity & nursing bras are made of Adaptive Stretch™ material that grows with your changing body from pregnancy through nursing. Use our size chart to find the right size of your next nursing bra.