Breast milk storage bags
The convenient way to store, carry and warm expressed breast milk, Medela breast milk storage bags are easy to use and hygienic.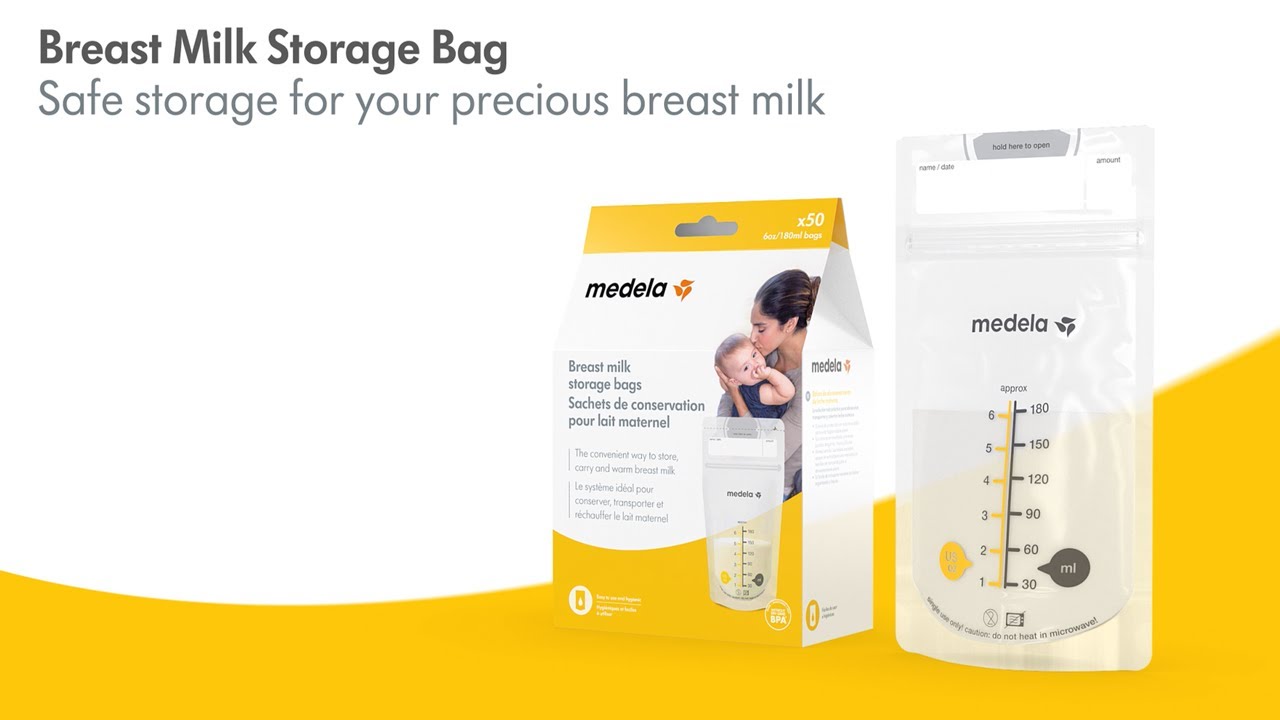 At a glance
No leaks with double zip protection and double walls
No tearing, splitting or cracking with heat-sealed seams
Bags stand upright for easy handling and lie flat for storage
Transport pouch included to keep breast milk bags organised and clean
BPA free
The benefits of feeding expressed breast milk
When you're breastfeeding and pumping milk for your baby, there'll be times when you need to store it to use later; for example, if you're breastfeeding and working fulltime, going out for an evening, or simply want a stock of expressed breast milk for another caregiver to feed to your baby while you take a break. In addition, if you have an oversupply of breast milk it's a good idea to store it safely rather than wasting it – expressed breast milk retains most of its health-giving benefits, so it's better for your baby than formula.
How to store breast milk: A convenient, hygienic solution
If you're expressing your milk straight into bottles, transferring it into Medela breast milk storage bags for storage and transport makes sense. These stand up upright for easy handling, yet can lie flat once sealed, for storage in the fridge, plus they can be frozen, too. Milk storage bags also make life easier later on, when you want to defrost and warm your frozen breast milk to feed to your baby. If you want to express your milk directly into milk storage bags, take a look at our Pump & Save bags.
Peace of mind on the move
Medela breast milk storage bags come with a handy transport pouch that keeps them together and organised without taking up lots of space. The pouch is also printed with clear, illustrated instructions, so you can feel confident when using the bags on the go. There's no need to worry about leaks, either, as each breast milk bag has double zip protection and double walls, and the seams are heat sealed to prevent tearing, splitting or cracking. While expressed breast milk remains safe at room temperature for up to four hours,1 if you have to transport it for longer periods of up to eight hours you'll need to keep the milk storage bags in a cooler bag with ice packs. For more details, read our article on travelling and pumping.
Hygiene when using breast milk storage bags
Good hygiene is vital to ensure stored expressed breast milk is safe for your baby to drink. Wash your hands thoroughly with soap and drinking-quality water, then dry them with a fresh towel or a single-use paper towel, before touching the milk storage bag. Try not to touch the inside of the bag. On the subject of hygiene, Medela breast milk storage bags are only meant to be used once. Don't ever reuse the same bag, as this could cause cross-contamination. The good news is that, as they come in packs of 25 or 50, you'll have plenty to keep you going.
Freezing expressed breast milk
Breast milk storage bags are ideal for freezing your expressed breast milk, as they're freezer-proof, ready to use and easy to label – simply fill in the panel on the front of the bag to keep track of the dates. Remember that, like all liquids, breast milk expands as it freezes, so don't fill the milk storage bags past the 180 ml mark, which is clearly labelled. Thanks to their flat shape, the bags are easy to slip into the freezer – and quick to defrost, too.
Thawing frozen breast milk
To avoid losing all the vitamins, minerals and other important ingredients in your breast milk, always thaw your frozen breast milk storage bag inside the fridge. This will take around eight hours, so make sure you factor the time into your preparations. Don't try to speed things up by heating a bag in the microwave or putting it in a pan of boiling water, as these methods can cause 'hot spots' in the milk that are a scalding risk.
How to warm breast milk
Your baby may prefer your expressed milk if it's at body temperature, because it seems more like milk that's come directly from the breast. It's easy to warm your milk in a Medela breast milk storage bag: either place it into a bowl of warm water or a bottle warmer, or run it under a warm (maximum of ­37 °C or 98.6 °F, which is body temperature) tap.
Read more
What's included
Downloads & Links
Medela breast milk storage bags come in packs of 25, 50 or 100 bags, with transport pouch. Configuration may vary from country to country.