Safe & Dry™ Ultra thin disposable nursing pads
Designed for when you're experiencing low to moderate breast leaking, Medela Ultra thin disposable nursing pads are the discreet way to stay protected and confident.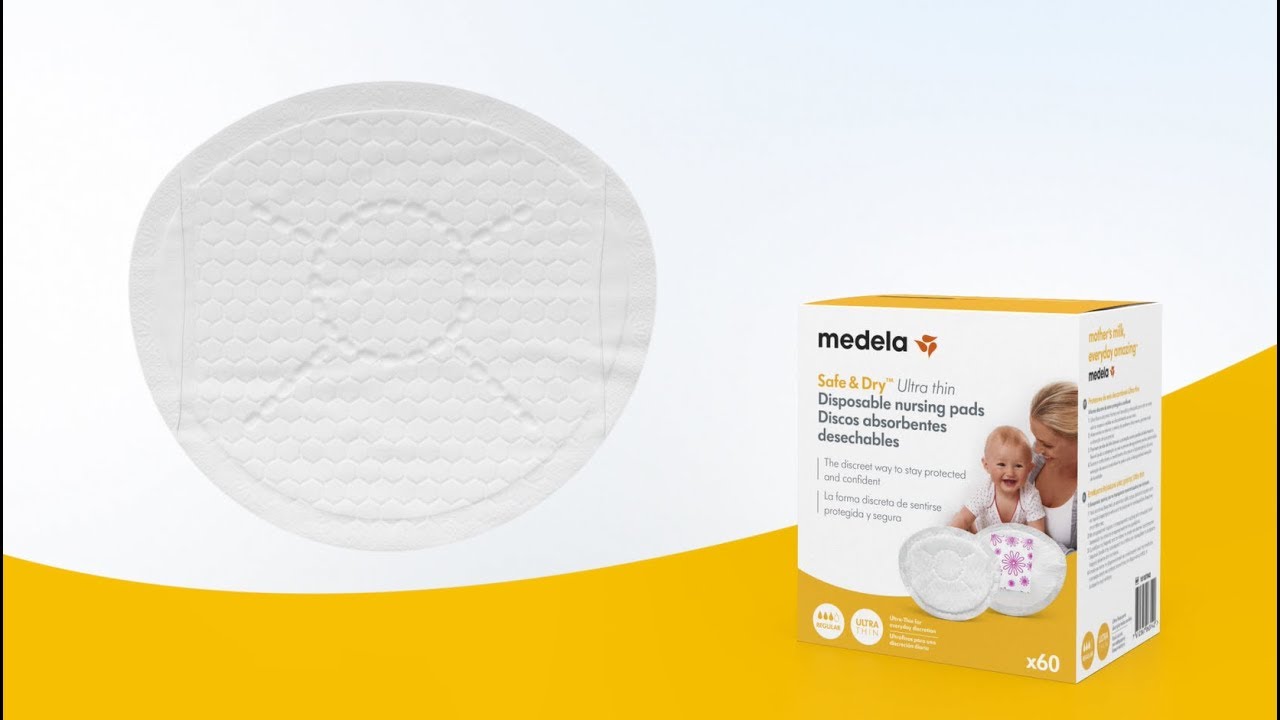 At a glance
Innovative oval shape optimised to fit your breast discreetly
Absorbent polymer core locks moisture in
Five layers of absorbency in less than 2 mm of thickness
Soft, hypoallergenic lining keeps you comfortable and dry
Flexible leak-guard prevents milk from escaping at sides
Read more
How to manage leaking breasts
Breastfeeding or pumping frequently should help relieve breast fullness and
therefore leaking.1 In addition, wearing nursing pads (also known as breast pads or maternity pads) can soak up any excess milk. If your leakage is only light to moderate, or you have leaking breasts during pregnancy, you may not want or need the bulk of thicker pads designed to cope with heavy flow – this is where Ultra thin disposable nursing pads can help.
Discreet fit under clothes
Leaking breast milk tends to travel downwards, which is why Medela's Ultra
thin disposable nursing pads have an innovative oval shape that covers
more of the area beneath your nipple. This shape also fits closely to the
natural form of your breasts and stays there, thanks to adhesive strips that
stick to your bra. This, combined with a slim silhouette, means you don't
have to worry about the breast pads showing through your clothes.
Ultra thin, yet absorbent
Even though Medela Safe & Dry™ Ultra thin disposable nursing pads are
less than 2 mm thick, there's no compromise on performance. They have
five layers of protection and an absorbent core that draws moisture away
from the surface, so skin and clothing remain dry. The additional side leakguard means that milk is safely locked away in the maternity pad, until you're ready to dispose of it.
Feel comfortable and confident
Medela's Ultra thin disposable nursing pads are made of a soft, honeycomb
non-woven material – similar to that used in babies' diapers– so feel
comfortable against sensitive skin. In fact, they're so comfortable you may
even forget you're wearing them, so remind yourself to change them
regularly! Each breast pad is individually wrapped, ready to pop into your
bag for use wherever you are.
A solution for every stage
Ultra thin disposable nursing pads are just one part of Medela's Safe & Dry™ range – a reliable choice of hygienic, discreet products for managing the varying levels of leakage you may experience throughout your breastfeeding journey.
What's included
Downloads & Links
Helpful videos
Safe & Dry™ Ultra thin disposable nursing pads are available in packs of 30, 60 or 120 individually wrapped maternity pads. Configuration may vary from
country to country.